Top 5 Online CV Builders
 Last Updated: 29 June 2017 
Online CV Builders are a great way to design a professional and effective CV quickly, and without have to spend too much time breaking your head over design and layout questions. Here is a quick review on some of the services available on the web today.
1. Kickresume
Website: kickresume.com
Price: $15
Design Quality: 9/10
Kickresume has a selection of thirty templates, most of which are very well designed. Most of the templates follow a minimalist and flat design philosophy that speaks to current trends. The layout and selection of colors make them easy to read and applicable for a variety of professions.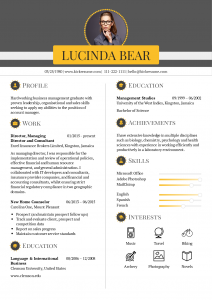 Editor Quality: 9/10
Kickresume's editor is really easy to use and provides options for a variety of different fields such as Achievements, Volutneering, Certifications, Hobbies and Strengths. This not only makes it easy to build your CV, but provides some sort of guidance with regarding your CV content.
We would have liked to see the ability to add more images to the the CV, but overall the systems is user-friendly and efficient.
Overall rating: 9/10
_____
2. VisualCV
Website: visualcv.com
Price: $36
Design Quality: 7/10
VisualCV has a beautiful range of more than twenty templates that will suit a wide variety of tastes and needs. From cleaner and more traditional CV's to more visually pleasing CV's. Some of the templates seem like they were designed a little half-heartedly, which is disappointing considering how many good ones are available.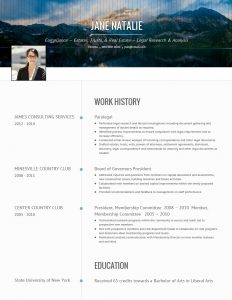 Editor Quality: 9/10
VisualCV's Editor works well and has a lot of flexibility. It is also one of the few CV builders that allows for the adding of additional images, which is especially useful for those who work in more visually orientated fields.
Overall Rating: 8/10
_____
3. Craft CV
Website: craft-cv.com
Price: $16.97
Design Quality: 7/10
CV templates at CraftCV have quite a similar look and feel to them, but they will definitely do the trick in most instances. They are pretty modern but if it is a flexible platform that you are looking for then I would rather steer clear of this one.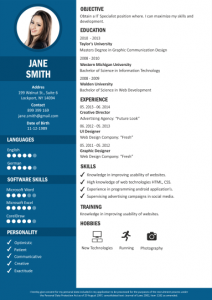 Editor Quality: 5/10
The CraftCV editor feels a little bit bonkers. It's as if they gave the task to a sugar-high toddler. The overall layout of the site is also not very intuitive. It's difficult to figure out how to do things. I think once you get the hang of it, it might be really great to work with, but we can't see ourselves spending that much effort.
Overall rating: 6/10
_____
4. CV Maker
Website: cvmkr.com
Price: $16
Design Quality: 6/10
In comparison to the others on this list, the design elements of CV Maker is a little boring despite not being a whole lot cheaper. It's also difficult to get a good idea of what the paid version will give you without actually spending money, which should make one hesitant to use it.
Editor Quality: 7/10
The CV Maker Editor is probably one of the easiest to use, and has most of the things that you need to create a good CV. On the downside there is not too much to get excited about and it is a little old-school, but we still like it for its simplicity and ease-of-use.
Overall Rating: 7/10
_____
5. EnhanCV
Website: enhancv.com
Price: $19.99
Design Quality: 6/10
EnhanCV's templates are not as cool as you would expect from such a good looking website. In terms of variety they are also quite a bit behind their peers but we still like them due to the Content Analyzer that they use to help customers improve their CVs.
Editor Quality: 4/10
EnhanCV does not use a form-style editor, which can make it frustrating to use, and there are multiple features missing that seem standard in other CV Builders.
Overall Rating: 5/10
_____
Despite how important it is, writing a CV is not always easy. Most of us don't know what is supposed to go in it, and what recruiters and employers are looking out for. Neither do we always possess the eye for layout and design to make sure that we catch the attention of the right people (or at the very least not embarrass ourselves). CV Builders are an easy and affordable way to achieve that, and we definitely recommend them.
_____